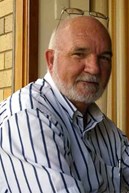 Richard Hanna is a well loved and respected member of the Lugarno Peakhurst congregation.  He has contributed to the life of the church in so many different roles.
Richard, Pamela and their family have worshipped at Lugarno Peakhurst for over 50 years and during that time he has served in a number of ministry settings including as treasurer, church councillor, lay preacher, elder, chairperson and trusted advisor in so many different areas.
In each of these roles, Richard's faith and dedication have guided him and he has displayed great skill, integrity and caring.  Throughout his ministry he has shown great leadership, attention to detail and reliability.
He has used his professional skills in so many ways to improve the property.  These improvements, including Fellowship Hall and a new kitchen, have not only benefitted the congregation but also the community.
Despite being so busy Richard always finds time for family.  He enjoys spending time with his grandchildren and has a wonderful relationship with them.  He loves playing golf, follows a variety of other sports and is very supportive of Pamela in her role as Netball coordinator.
Many of the Lugarno Peakhurst congregation and their friends have enjoyed a number of overseas holidays that Richard has planned with great attention to detail.  He is a keen photographer and has generously shared with everyone, the wonderful photos that he has taken.
Richard's involvement is not confined to Lugarno Peakhurst Church.  He has been Presbytery Chairperson twice and also Presbytery Treasurer.

As a member and Chairperson of the Georges River Presbytery Aged Care Board, Richard's leadership and experience with the building industry were valuable and relied on.  He insisted that the size of the rooms in any facility that was planned by the Board were larger that the norm for the industry at that time.  Banks Lodge, Roberts Lodge, Nunyara were all planned, built and established during his time with the Board.

As a Quantity Surveyor, Richard has also worked with the Synod and many other Boards and denominations, helping them with their building projects.

Richard was also helpful to the Presbytery when they were looking for and setting up office space for the Presbytery, with the Office Space in Penshurst and Bankstown Uniting Centre, Forest Road Penshurst and now back to Lorne at Hurstville.
Richard's work ethic is outstanding; highlighted in leading the restructuring of GRP that started during his tenure as Chairperson in 2019. He was adamant that the aspirations of the new Mission, Vision and Strategic Plan (MVSP) was implemented as efficiently as possible. He would go beyond the call of duty to ensure that objectives continues to be met.
After stepping down from his position of Presbytery Chairperson this year, he continues to offer himself serving at PRC, Standing Committee, GRP Expert Task Group (Property Sales & Investment), Mission & Strategy Committee, Rockdale Uniting Church Development Committee among other responsibilities.
Richard's life reflects what Paul wrote in 1 Thessalonians 5:11  "Therefore encourage one another and build one another up, just as you are doing".  His character reflects his faith in Jesus Christ. Like Jesus, he builds people up, he helps build up Christ's church in the Georges River Presbytery.  A quote attributed to Francis of Assisi deeply resonates with the person that he is, 'Preach the Gospel always, sometimes use words.' His life and continuing service speaks to his integrity and faithfulness. That is why we appreciate and celebrate Richard Hanna as one of our most respected leader in Georges River Presbytery.