GRP Legends - Rev Graeme Watkins
The first GRP Legend to be acknowledged is Rev Graeme Watkins who was recently recognised at Synod for 40 years of faithful ministry and whose disruptive vision was for Georges River to be not just viable, but a flourishing Presbytery.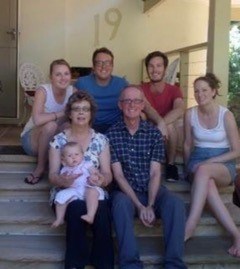 I arrived at Lakemba UCA in October 2014, so my time in GRP has only been 7 years, but in that time, I have come to know and love the area. When I began the role as Chair of the Presbytery in 2017, I began to ask God what God's desire for GRP was.  It turned out to be different than I expected. It became apparent that many, if not most congregations were struggling to survive.  It became apparent to me that significant change was necessary in order for the Presbytery and its congregations to have a long-term future.  I began to believe at this point that God had planted in me the seeds of a vision for the future of GRP.  So, what now?
I had done leadership training with Rev Peter and Sue Kaldor.  I learnt a number of important things from them.  Leaders serve, Leaders cast vision and if the vision isn't caught, it won't go anywhere.  Good leaders surround themselves with good people.
I did my best to serve the Presbytery.  My desire was to help us to show our love for each other more.  I think we have managed that.  Rev Tammy Hollands and Ms Barbara Moore were outstanding in their work and support.  They were able to do many things that were completely beyond me.
The turning point came when Rev Cameron Eccleston began supporting GRP.  Cameron's expertise began the process of putting flesh on the bones of the vision.  When Richard Hanna nominated to become Chairperson after I finished my term, his skills, expertise and connections enabled the vision to become a reality.
I remember being in worship at Synod and seeing what I believed to be God's vision for GRP.  It involved all of us working together for God.  There were hub churches which were bigger (not better) by nature, creating more resources and having more volunteers for ministry.  Then were Suburban churches who were the Christian presence in a suburb.  They continued to worship together, but where they lacked resources and volunteers for ministry, there was the opportunity for the hub church to provide assistance.  Then there were legacy churches, who may not have the resources to keep going long-term but continued to have a valuable role to play in God's ministry.  I shared the vision with Cameron, and he has run with it, as has Richard Hanna, Simon Lee, Matagi Vilitama, Barbara Moore, Kevin Fyfe, Ruth Fyfe, Gaby Kobrossi, Helen Phillips, 'Oto Faiva on the Standing Committee, with great support by Frencing Sastradjaja.
So on we go.
I have never seen the vision as mine.  It has belonged to God from the beginning.  I have been greatly encouraged to watch gifted people run with it.  We are at a point where we are seen as a leader amongst Presbyteries.
This year I celebrated my 40th year in ministry.  Yet my wife Susan and my children Andrew, who is married to Dizzy with four children of their own Molly, Evie, Max and Ben, Amy and Joel are the greatest blessings of my life.  Andrew is a Church of England minister in England.  He candidates through Holy Trinity Brompton, the Church which began ALPHA.  He and Dizzy have planted a church in Feltham near Heathrow airport.  It is a joint C of E / Methodist initiative.  His church is thriving, despite the pandemic.  It can be done with faith, prayer and committed volunteers.  Amy has almost completed her training as a Baptist minister.  She is a trail blazer for women in the Baptist Church.  My son Joel is a gifted Primary School teacher.  Our emphasis on the emerging Church is correct.  I commend Rev Matagi on this emphasis.  It is time for the Uniting Church to take its place in the Kingdom of God.  We need to be a church that values all Christian points of views and is willing to listen to each other, to love each other.  We need to open our minds and hearts to what God is saying to us and follow God into God's future.
May God richly bless you all as we journey together into God's future.
Rev Graeme Watkins
Minister
Lakemba Uniting Church