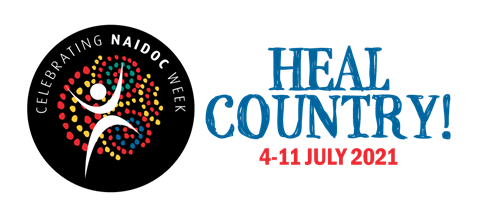 Welcome to National NAIDOC week 2021! This week we're celebrating the history, culture and achievements of Aboriginal and Torres Strait Islander peoples around Australia.
 The theme this year is 'Heal Country'. It calls for us all to seek greater protections for the our lands, waters, sacred sites and Indigenous cultural heritage from exploitation and destruction.
 While it may be difficult this week to attend events to acknowledge NAIDOC due to our current Greater Sydney lockdown, there are still plenty of things you can do to educate yourself and get involved:
 WATCH:
🎥 Learn the meaning behind Aboriginal place names: Click here
🎥 Conducting 'cool burns': Click here
🎥  The importance of land: Click here
 READ:
📕 Dark Emu – Bruce Pascoe
📕 The Biggest Estate on Earth – Bill Gammage
📕 Welcome to Country: A Travel Guide to Indigenous Australia – Marcia Langton
📕 Become familiar with the Uluru Statement from the Heart: Click here
 DO:
🚶 Go for a walk on country, put your feet on the land
🌱 Plant a tree
💬 Share a story about what it means for you to Heal Country Find out what was on the land before your home, your office, the local shops
🗑️ Pick up rubbish in your local park, bush area… also a great excuse to exercise!
🌿 Learn about the caring for country practices of the people whose land you live work on.
20 tips to get involved: Click here
 2021 National NAIDOC logo used by permission.